Popular Product


HK$ 178 / 50 ml
Shiu-shing Rose whitening and Moisturizing Rose Essential oil
Shiu-shing rose whitening and Moisturizing Rose Essential oil contains pure rose oil, rose seed oil, natural jojoba oil and Vitamin E. Pure rose oil can suitably tighten the skin, diminish the effects from melanin and dark spots, makes aged dry skin smooth, looking young and white. Rose seed oil can make skin smooth, whiten and beautify and can avoid the skin from becoming in loose shape. It can also lighten the effects from scars, acne, keeping skin from moisture loss and prevent pigmentation.
Accompanying with jojoba oil which is highly permeable and mostly can reach ossein in bones, pure rose oil and rose seed oil can perform their functions more easily such as to make skin absorb quickly and completely. Vitamin E oil is highly resistant to oxidation which can make skin more flexible and looking young.
Shiu-shing Rose whitening and beautifying skin care essential oil containing four important skin care elements can lead living exciting and brilliant.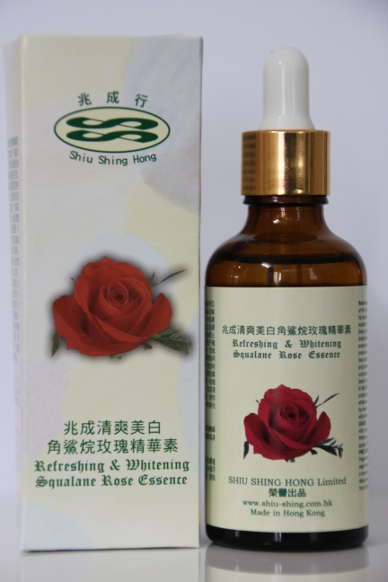 HK$ 178 / 50 ml
Refreshing and Whitening Squalane Rose Essence
SSH Refreshing and Whitening Squalane Rose Essence is a good skin care product. It contains natural ingredients, not emulsified, feeling fresh, and effectiveness is very high. It contains pure rose oil from Bulgarian grown damask rose (Rosa damascena), squalane, rose hip seed oil and Vitamin E. Squalane SO is the main ingredient of youthful skin, to keep healthy skin elastic, quickly penetrates the skin, enhance the effectiveness of the Bulgaria pure rose essential oil. Bulgaria pure rose oil is able to tighten skin, remove wrinkles, reduce melanin and spots, and so to make skin become tender and white. Rose hip seed oil and vitamin E oil can supplement to enhance the cosmetic effect. In the morning and evening after cleaning the skin, 2-3 drops of this oil applied to the finger or on a makeup sponge, gently massage the face and body skin will make skin stay young and delicate, white and flexible. It will cause living radiant and brilliant.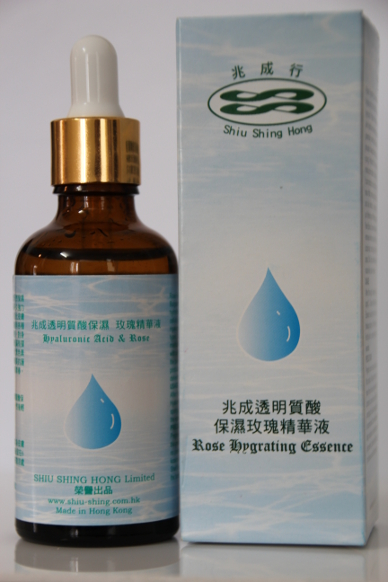 HK$ 178 / 50 ml
Rose Hydrating Essence
SSH Rose Hydrating Essence contains pure hyaluronic acid and Bulgarian rose hydrosol. Hyaluronic acid can effectively achieve moisturizing, firming and activating skin to make skin soft. Its mild quality leads it suitable for all types of skin. It can make rough skin smooth and have body moisturizing effect and make skin full of elasticity. Accompanying with Bulgaria rose Hydrosol whereas rose essence can remove speckles with whitening effect, dilute melanin, tighten the skin and have relieving function, the product achieves the perfect good beauty skin care, makes skin tender, smooth and keeping youth.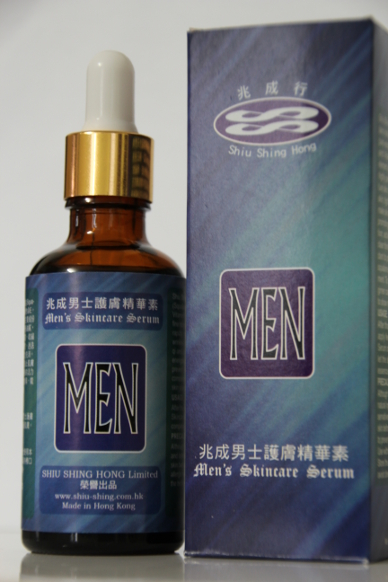 HK$ 178 / 50 ml
Shiu Shing Men's Skincare Serum
It contains natural Squalane (SQ), pure essential oils of rosemary extract and Vitamin E. Squalane is the main element of young skin, it's fine molecule highly penetrate, non-greasy and moisturize skin rapidly. Improve rough and dull skin, tightening pores, refining wrinkles, make skin healthy and elastic. Rosemary can promote and activate blood circulation, activate brain cells with energetic and clear thinking. Vitamin E is highly antioxidant to prevent skin aging. Assorted with squalane and rosemary vitality complement, it can achieve the best skin care regimen to keep skin young and healthy, to show men's masculinity!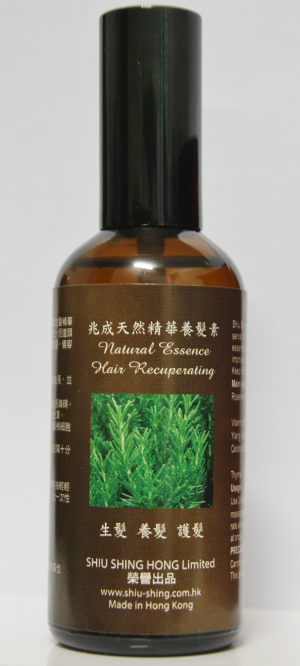 HK$ 128 / 100 ml
Shiu Shing Natural Essence Hair Recuperating

It contains a variety of natural essence for hair care. It can effectively reduce hair loss and stimulate hair growth, promote hair growth with glossy, to keep hair strong with superior attractive appearance. The natural rosemary of the product promotes blood circulation, helps hair lustrously grow; and Vitamin B5 stimulates cell functions to make hair grow rapidly. The component Ylang-Ylang can promote hair grow vigorously and lustrously. In addition with natural cedar wood and thyme, the product can improve the conditions of hair loss, to reduce dandruff, to make hair strong. Only need to put the product on head, and then gently massage with fingers, the feeling is fresh, not greasy and smell fragrant.
HK$ 118/ 230 ml
Shoulder and Lymph Massage Oil
The Shoulder and Lymph Massage oil is produced from essential oils of natural lemon grass, rosemary, ginger, eucalyptus and etc to suit the massage purpose. It is effective for the improvement of blood circulation around lymph system, increasing the effect of disease-resistant and regulation of blood circulation system. It is able to relieve the pain of muscles, reduce the amount of lactic acid; reduce the effect of being tired due to overwork. It makes muscles fast recovery to have energy . It also releases tension and stress to improve emotion and vitality. It is effective for keeping body healthy as well as for the improvement of emotion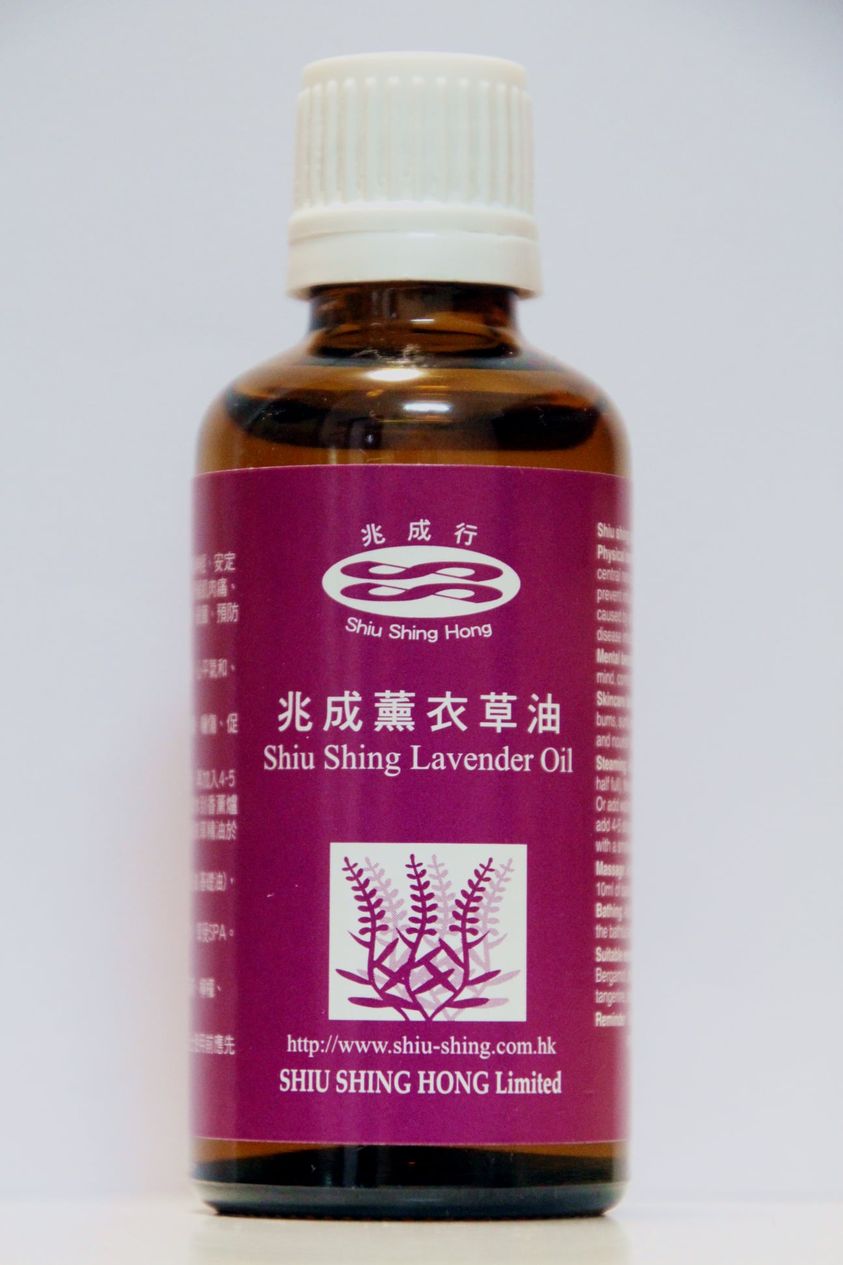 HK$ 148 / 50 ml
HK$ 40 / 10 ml
SSH LAVENDER
The Shiu Shing Hong (SSH) LAVENDER is 100% natural pure and unadulterated lavender ethereal oil. It is produced in the top-class species lavender ethereal oil from the French plateau mountainous country. The effect is especially good. The mild effect of the essential oil has fragrant smell. It can be used in a great variety of areas such as to relieve tension, to stabilize emotions, to improve sleep quality, to purify mind, to help people calm and to soothe the effect of muscle soreness. SSH Lavender can stimulate cell regeneration. Mixed with pre-make base cream applied to skin is able to clean skin, balance oil secretion, reduce speckles with whitening effect, eliminate wrinkles and make skin look young, remove dark circles under eye bags, to make skin recover and grow actively, with skin care and beauty functions.
Pure Jojoba Oil
SSH Pure Jojoba oil does not need to go through other chemical processing or added preservatives. It is natural and pure. Because of this vegetable oil with wrinkle-resistant protein, minerals, and close to the skin's collagen, penetrability is high and stable with nourishing and moisturizing. It can pre-lines and maintain skin moisture, soften skin, oil is the best for beauty treatments, make the skin feel silky after the use, especially for the face. It can be used for hair care to improve rough hair, to prevent hair sunburn fork and make hair soft. Therefore customers like to use it, as well as for cosmetics base oil. Jojoba oil is perfect for skin care and hair care to maintain natural components. It is the ideal skin care oil! Jojoba oil, a plant originating in the desert, possibly due to the harsh environment of the desert environment, extremely dry and hot, make jojoba oil so high quality for skin care oil. It can be described as a gift from God.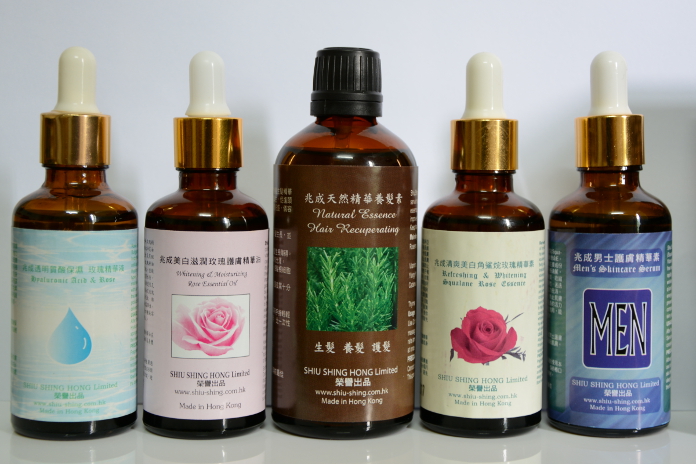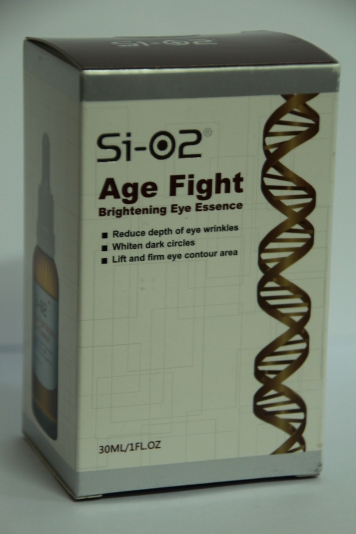 Age Fight - Brightening Eye Essence
HK $180 / 30 ml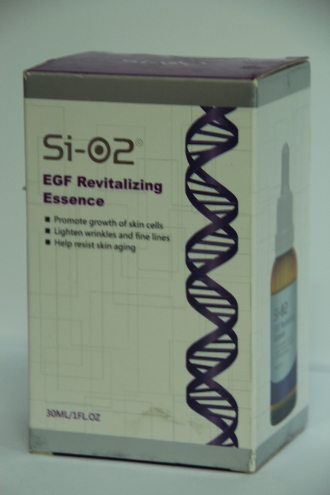 EGF Revitalizing Essence
HK $180 / 30 ml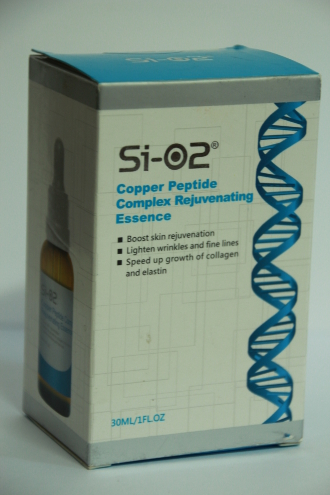 Copper Peptide Complex Rejuvenating Essence
HK $180 / 30 ml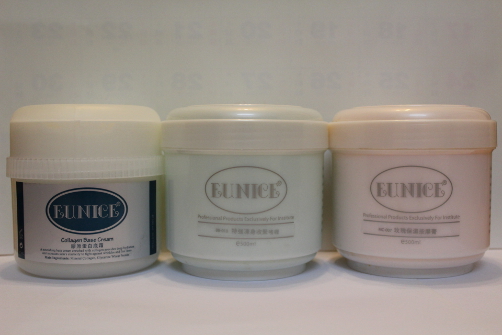 There are many other types of products not listed above provided by the company. Both wholesale and retail sale are welcome. Please contact us for any enquiry.
(The above information were collected from a variety of relevant books. For details, please consult the professional experts in Pure Essential Oils.)
(Remark: The above information was translated from Chinese version. If there is any difference between them, the Chinese version is needed to be used.)